Lead Generation is the most important aspect of any business. Unless you are McDonald's, and just the name itself gets people to want to buy, well then you need to actually work to get your company leads and business.
Why use Golden Financial Services to help your company generate leads?
Golden Financial Services is best known for helping consumers with their unsecured debt. We have been offering debt relief services for more than 15 years now. 
Back in 2004, we purchased leads from lead vendors. After getting taken advantage of enough times, we decided to dedicate a team towards generating leads for our business. 
We now have many, many years of proven success in the business of generating leads. Our success is all documented, right online. We know what works and what doesn't work when it comes to lead generation. 
We didn't just wake up one day and decide to learn about online marketing, we've dedicated a decade of time and investment towards our business model, and it works like no other! Our proprietary strategies will give your business the most real estate on Google and in the best locations! 
Your business can dominate on Google in your industry and we can help you do it fast — and make sure your business maintains the success for many years ahead and guaranteed. 
Let's start with "Proof."
Google "Debt Free".
Over 4,000 people search for this simple phrase every month, according to Google's free tool.
This is a popular search term that hundreds' of companies compete for on Google. Every debt relief company wants to be "number one" for this search term — debt free!
After searching on Google for "debt free", here's what comes up at the top of Google.

Yes, that's us.
We've done this for hundred's of different keywords related to our debt relief business, and we can do the same for your business. 
Our track-record of generating leads
Most people are lost when it comes to online marketing and lead generation. 
Golden Financial Services was clueless in this area ten years ago, but over the years we've become experts at generating leads.
Our success has been proven.
We started out, jumping for joy when we would generate 1-2 leads per day; "yes, it's working"!
Now; many years later and hundred's of thousand's of dollars invested in marketing later; — We are now generating — hundred's of the most qualified leads EVERY SINGLE DAY…
Golden Financial Services now has a proprietary marketing infrastructure and a team of brilliant employees that focus on marketing full time.
Our sales team — they are as happy as life can be. In other words — "spoiled!"
With non-stop leads coming in, they couldn't ask for more. Our company is experiencing growth that ten years back we could have only dreamed of. 
Golden Financial Services Marketing Credentials
Google has recognized Golden Financial Services and our CEO, Paul Paquin, as a Google AdWords Certified Professional. Paul Paquin, amongst other employees at Golden Financial Services — have all passed multiple exams that assess our lead generation expertise. We are qualified to help you grow your business on the web using our techniques, strategies –  and we have the team in place to provide you with the extensive amount of work it takes to dominate on Google!
Paul Paquin the CEO at Golden Financial Services is a Google Adwords Partner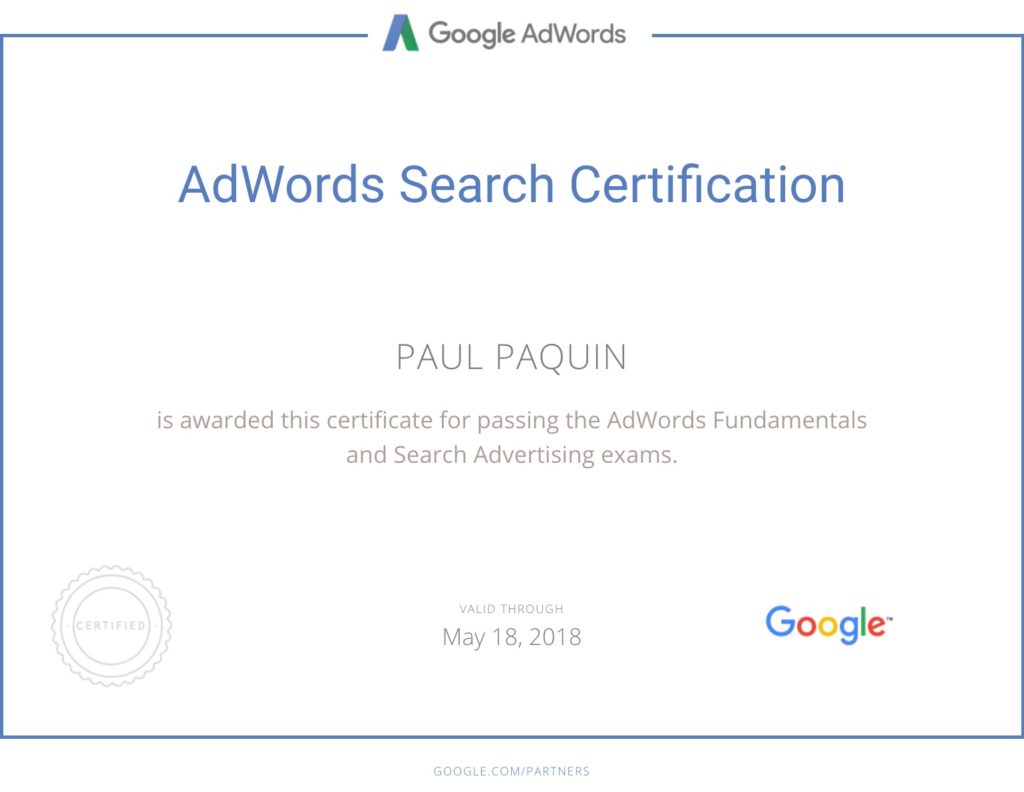 If you sell cars, we can help your company to compete with BMW and Lexus, getting valuable customers.  If you are in the financial services industry, we can develop your marketing to where your website pages rank on top of Bank of America and Chase, in the Google search results.
Are you in the restaurant business?  We can get your company website to rise to the top 3 in the Google search results for the best restaurants in ____ (whatever area you live in)!
Google ads are Measurable to the dollar, Unlike SEO
Search Engine Optimization (SEO) is great, and we use it at Golden Financial Services. However, it's difficult to show someone measurable results in a quick time-frame with SEO. We have packages that offer both Google Adwords and SEO, but we don't offer just SEO alone because we need to show our client's real measurable results fast. 
Are your sales reps sitting around with nothing to do? 
Spark fireworks on Your Sales Floor; — Our services are guaranteed to make your sales agents happy and will allow you to quickly hire and grow!
Are they calling old aged leads?  Honestly, we will get your phone ringing with business and leads flowing in one after the other.  This will be a dream come true for you.  Guaranteed!
At Golden Financial Services we are now offering our expertise to help you gain the leads and clients that are currently buying from your competitors.
Wouldn't you LOVE for your page to come up in the search results at #1 on GOOGLE looking like this?
The Cost for Lead Generation Services
Over the years we have partnered with multiple online marketing and pay per click companies so we also know the going rate for this type of service.  Not only do we know that we can perform better than 90% of the marketing companies out there, but we also know that our rates will be more affordable.
Rates vary depending on the size of your company and on how much money you are looking to invest into generating leads or AdWords.  Your return on investment will be significantly higher than it could ever possibly be if you are currently buying leads from vendors.  Some companies will invest as little as $500 per week, while our larger partners will invest more than $30,000 per month on AdWords.

We don't just work with anyone. Our preferred way of doing business is to work out a deal based on revenue generated. We can generate leads for your business and only get paid if we generate revenue and profit. That is how confident we are in our services.
I want to start generating leads for my business, but how can I get started with Golden Financial Services?
Again; we can't take everyone on.
The first step is to email Golden Financial Services at generateleads@goldenfs.org. 
Tell us about your company and goals. We want to learn more about the history of your business and your products.
Lead Generation Terms + Definitions – You will need to know these basic lead generation terms before continuing to read.
 Search Engine Optimization (SEO) – A strategy used to increase the ranking of a Webpage in results returned by a search engine, like Google.  The goal is to gain traffic.  People type in keywords on search engines like Google and SEO helps to get your page showing up in the organic or free results and towards the top.
Tip
A marketer cannot control this and it takes many months for SEO to provide results.  With paid advertising a marketer controls where their ads show and how much money is spent.
 AdWords – Pay to get your keywords or ads in front of the right audience.
Insight on AdWords and the Golden Financial Services Lead Generation Service

With this type of advertising you can control, opt in and out at any time making costs easy to manage.

AdWords is also known as paid advertising, and pay per click (PPC).

Golden Financial Services offers Lead Generation Services that include AdWords/PPC management and Optimization Services.

We get your ads above your competitors and optimize your account to have the best possible Click Through Rate (CTR), leading to a phenomenal return on investment and conversion ratio.

We can help you to grow your business beyond your dreams over the next 12 months.

Conversion Tracking – The definition of conversion tracking by Google, "is a free tool that shows you what happens after a customer clicks on your ads."  
Google Analytics – According to the Wikipedia,"this is a service offered by Google that generates detailed statistics about a website's traffic and traffic sources and measures conversions and sales."

Return on Investment (ROI) – According to the Investopedia, the definition is, "a performance measure used to evaluate the efficiency of an investment or to compare the efficiency of a number of different investments. To calculate ROI, the benefit (return) of an investment is divided by the cost of the investment; the result is expressed as a percentage or a ratio."
Click-through rate (CTR) – According to the Wikipedia CTR is, "A way of measuring the success of an online advertising campaign for a particular website as well as the effectiveness of an email campaign by the number of users that clicked on a specific link."
The Golden Financial Services Lead Generation Service Includes:
Landing Page Optimization and Professional Design with A/B Testing Included – Landing pages can make or break your campaign, or in other words, landing pages can get you leads or cost you money and get you no leads.  We use high performing templates, provide professional and unique landing page design, and tweak your page to have all the key elements that lead to more conversions.  We ensure your AdWords quality scores are high, and this keeps your costs down, while making it easier to rank on the top of the search results.  To do this we must ensure your landing pages are high quality, along with being relevant to your ads and keywords.

Advanced AdWords Conversion Tracking and Google Analytics Testing and Tracking of Results Included – We set up conversion tracking and use Google Analytics reporting in order to closely track everything.  We will basically learn what keywords people are clicking on that are leading to conversions, the path they take prior to converting, and every detail you would need to know in regards to lead generation.  This allows us to minimize your expenses and maximize your return on investment.  Knowing the exact path that gets you leads, allow you to invest in those key areas, avoiding wasting your budget in areas that don't perform.
Daily and Monthly Monitoring + Webinar Meetings to Keep you Informed –  We go over results, modification's made to ads and your overall campaigns, new addition's, pages, keywords, negative keywords and much more!   Our goal is to stay transparent with what we are doing so that you know what is going on.  We want to work as a team.  Our job is to do the marketing, while your company concentrates on production.  We make sure that your company understands what we are doing.  Golden Financial Services discovered and developed proprietary technique's that will put your ads above your competitors ads, and making the click through rate higher than most PPC Companies can only dream of doing for you.   We will implement these proprietary methods into your AdWords account allowing your company to reap these benefits.
We provide you with a 30 day, money back GUARANTEE – After 30 days if you are at all unhappy with the service that we provide, you will be entitled to a Full Refund, unlike other companies that lock you in for 6-12 months.

SEO Consulting Included –  Our marketing department has advanced SEO skills and technique's to offer you on top of our paid advertising platform.  The two work hand and hand.  What we do for you with AdWords, will also help with SEO for your website.  We do legitimate and real marketing, with no tricks.